Fellow ACFL Members and Audi Enthusiasts 


First off, we had no takers on the identify the photo contest, The picture was taken in Ingolstadt at a Burger King hence the IN Ingolstadt and BK Burger King on the license plate. If I recall this place is located near a railroad bridge.  


 





Photo Bob Greving 

Audi Point to Match Tire Rack and Discount Tire on OEM Tire Price  



Audi Clearwater will match the discount tire stores' price (remember one must add shipping for Tire Rack) on OEM tires for your Audi. For further details check it out and contact Mandy Walters or Todd Emery at Audi Clearwater. Mandy's email address is  mwalters@crowncars.com and let them know the Audi club sent you. Just one more benefit of membership. 

LeMans event at Reeves Report by Frank Oliver 



The 85th running of this wonderful event, took place on June 17-18, 2017. The Audi team exited this race, prior to the running of the event in 2016. Yet…Audi enthusiasts, worldwide, have had ongoing, acute interest in viewing the event. This year, Reeves Import Motor Cars, again, extended their cordial invitation for us to view the event, in Tampa. For 2017, the Reeves team went "over the top". It was held in total indoor, air conditioned comfort, at their beautifully done Porsche of Tampa, showroom. Multiple TV screens were all over the place and the catered breakfast/lunch was tremendous. The service of the staff, along with the terrific libations, were accomplished in a most superb fashion.  



As Audi exited last year…Toyota believed that they had a great opportunity, in finally bringing home a win, at LeMans. We know what happened last year. At the race, this year…their three cars were tearing up the track for quite a few hours. One of the vehicles left the race in the tenth hour. Not long after that, another of their vehicles was hit from behind, resulting in a fire. It, also, could not return to the race. Finally, their third vehicle had a major motor issue…was worked on…and did return to the race to finish in eighth place. 



Porsche thought all was lost when the #1 919 Hybrid stopped on the edge of the track shortly after noon, unable to return to pit lane. This, in addition to the #2 919 Hybrid experienced a loss of traction on the front axle which required it to remain in its garage for more than an hour during the first half of the race. Much, much later…as a "small" LMP 2 prototype was leading the race, the Porsche driver line up of Bernhard, Hartley and Bamber rose from the ashes and went on to cross the finish line in first place, to its unmitigated surprise…and immeasurable joy.  



New and Exciting


Audi Lakeland will be opening shortly; in fact they are presently having a soft opening to make sure everything is running perfectly on all four, six or eight cylinders. Being located just off the interstate, a perfect spot for a short break in the driving, a cup of coffee and a chance to see the latest from Ingolstadt. So if you are driving the I 4 corridor between Tampa and Orlando and need a constructive diversion it is well worth the stop. Then if you live in the Lakeland area you now have your own Audi dealership. This dealership is the third Qvale Audi point in the state of Florida. Those of you who are familiar with the history of racing, the development of auto importing in the US and the manufacturing of niche autos may have heard of Mr. Qvale, a son of a sea captain and fellow who once flew bombers during WWII. After the war he imported the likes of VWs, MGs, Austin Healy's, built Jensen-Healy's, and so on. He also imported Rolls, Jags and even had a hand in the construction of a few cars for the 500 at Indianapolis. One could certainly call him a Renaissance man when it came to the automobile world, yet his roots were Norwegian not Italian. He even had his hand in the development of the famed corkscrew at Laguna Seca. The Qvale Auto Group in addition owns two Audi points, one in Fort Lauderdale and a second in Coral Springs. The ACFL is looking forward to having an event at Audi Lakeland. In the interim if you are in the area or driving the corridor, check out the new Audi Lakeland dealership. I was there the other day and saw two allroads and a beautiful new S5 Sportback in blue.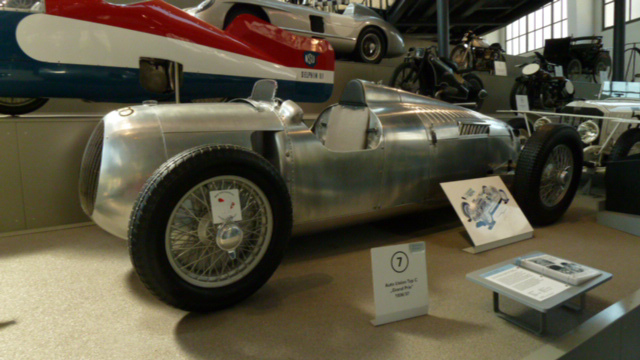 Verkehrsmuseum München photo by Bob Greving
Down the Road  

September is a month with an R in it which means if you follow superstitions and old dietary traditions prior to refrigeration that once again raw oysters can be consumed. In honor of the rescinding of the ban the ACFL will have its first POR MPG Rally, the Pensacola Oyster Run MPG Rally. It will actually be a rather simple event, lots of fun, fried and raw oysters, but there will be a twist in it, one of skills and a second for the lemons with the oysters. The event is open to all active ACNA members from Florida, Georgia, Alabama, Mississippi and Louisiana to drive their Audis that have functioning MMI's. One o f course must register and pay the registration fee. A number of starting Audi points will be designated and if there is not one near where you live that is fine too. The finish line and check in is the new Audi Pensacola dealership sometime between 3:00-4:00 PM on Saturday September 16th. If you would like to start driving on Friday, that is possible as you will be using Program 2 on your MMI. Every Audi has been blessed with a Federal Government EPA Highway MPG rating for that specific year, engine and model. That is one of the reasons you need to register ahead of time as we need to prepare your baseline and deviation numbers to beat. We all know in our hearts that is sort of like liars' poker and that beating the EPA number with not much effort can be easily accomplished, just don't try it with emissions. So here in a nutshell are the rules, whatever model year and Audi you have, times the EPA's highway MPG by 10% and that is the target MPG you need to beat and beat badly if you want to possibly be in the winner's ring. You're an ACNA member; Audi does not have circles, only rings remember. This way, R8's can compete with A3's. For example, if your EPA highway mileage rating is 20 MPG, you need to get at least 23 to be in the running for something or if it is 30 MPG you would need to be at least 34. That is not very difficult; the twist will come by your percentage over the government's rating plus 10%. Now you include the average speed factor from the MMI 2, with all things being equal, percentage over the government plus 10%, the one who is able to have a higher average speed for the distance traveled would be the winner. Don't worry we will have folks with spread sheets that can crunch all of those numbers. Of course there will be prizes. Around 4:30-5:00 we will all head out to a local eatery to raise havoc with the oyster population of Pensacola bay. Additional details including possible group lodging to follow. Now if you are just one of those bad boys and girls who likes to drive fast, pollute the world with a few extra hydrocarbons and frankly who doesn't at times, plus also enjoys eating oysters, just pay the registration fee and join in on the fun. We promise not to squeal and report you to the EPA. Coal fired hybrid electrics are permitted (BTW those are the plug ins) but will have a handicap yet to be determined. So set aside the date and join in on the fun.  

I received the below from a member a few years back, a rather poor shot of an MMI 2 along with some comments showing an aggregate 56,7 MPG on a well broken in A3 with over 20,000 on the clock coasting down a hill north of Herndon and our nations capital at about 70 MPH, a good 15 MPH above the speed limit. The instantaneous MPG is at about 70, Of course I have no recollection who would have executed such an anti-social act as taking both hands off the wheel at such speed to record this information.. To the best of my memory, it was stated that the vehicle, was not one of those "clean" diesels the operative word at the time. Even if it was, still excellent MPG. Perhaps someone can tell from the dash shot.

















                                                            Photo source, anonymous 


Shout out and Special Thanks  


I would like to give a quick shout out to all of those who upon renewal of their ACNA membership added a little more to their dues. That extra was sent by national into our account and is greatly appreciated. Dennis, Stephen. Alfonzo, Alan, Jeff, Marie, and Frank, thank you on behalf of the ACFL and the Board of Directors.  
























Verkehrsmuseum München photo by Bob Greving 


Upcoming Events 

July 1, 2017 

Gulf Coast Region  

Cars and Coffee Tampa Reeves Motorsports 6:00-8:30 AM  
11333 N Florida Ave, Tampa, FL 33612  

July 8, 2017 

Gold Coast Region  

Cars & Coffee Miami 8:00- 11:00 AM  
8202 Mills Dr. Miami, FL 33183

Gulf Coast Region 

Cars and Coffee Clearwater Audi Clearwater 8:00-9:30 AM  
18940 US Hwy 19 Clearwater FL 33764  

July 15, 2017  


Emerald Coast Region  

Cars and Coffee Pensacola Audi Pensacola 9:00-11:00 AM  
6303 Pensacola Blvd. Pensacola, FL 32505  

September 16, 2017  

Statewide Event 

POR MPG Rally, see preliminary description above, details and registration to follow 



Some Final Thoughts  

I recently returned from a trip sort of due North and frankly was surprised to see just how many Audis were traversing the hilly streets of downtown Halifax Nova Scotia. The province whose history is founded on cod fishing, ship building, coal, lumber and believe it or not steel has had its economic wows for a long time but to see the revitalization of the downtown district was amazing. One hundred yeas ago on December 6th approximately 2,000 people lost their lives when a French munitions ship while crossing the bow of a Belgium war relief vessel was rammed in the harbor narrows and literally leveled a good part of the city with the ensuing fire then explosion. Probably the largest and most destructive man made explosion until Hiroshima.  The Halifax Explosion. In the past century the destroyed parts have been totally rebuilt and today the city has a lot of out door cafes, pubs, construction and many young folks plus numerous universities. In addition it is different for a change to see all of the Audis few BMW's and hardly any MB's For a province with a 1% economic growth rate and a 15% sales tax on everything it is sort of amazing to see this concentration of relative wealth and vitality. The rest of the province is a picture post card of rural fishing villages, and quaint communities where many of the young leave for the bigger cities of Toronto, Ottawa and the oil patch out west, offering the possibility of more gainful employment. A substantial number still draw a living from the sea and find work in the fisheries or its related businesses. Once upon a time prior to Confederation 150 years ago and Canada is celebrating that this year, Nova Scotia was Canada's economic power house, today it is a pleasant provincial backwater with very hard working folks but struggling under high taxes and unemployment. Many work either for the government or in the service industry. A large group of folks can only find work during the tourist season and unfortunately must survive on unemployment the remaining part of the year,

I spent almost a week in Shelburne which was originally populated by refugees from our Revolutionary war. Many lost everything after the war, their lands and property were taken often without compensation and as is the case in most wars to the victors go the spoils. This group called themselves  Loyalists.  In fact after Boston, New York and Philadelphia, and not necessarily in that order, Shelburne was the fourth largest city in the New World. The city of Shelburne was not to be a success for many reasons and quickly declined.  

The Scarlet Letter with Demi Moore was filmed more than just a few years back. Many buildings in the film still stand on the waterfront and stood there before she ever got there as do a number of Colonial structures. I was there doing research on a number of schooners lost in the fog of history from a later period 1840-1900 in the archives of both the Shelburne Museum and the Shelburne Genealogy Society.  Shelburne is an intriguing town with a history of shipbuilding that also launched a number of very fast rum runners for the American market to help quench the lower 48's demand for spirits during one of our misguided experiments in social engineering. Talking about rum runners. I meet a journalist in Lunenburg who was on assignment out of Montreal writing a travel article. I believe it was her great grand dad who hailed from Newfoundland, a real rum runner named Capt. Fudge, what a great name for a rum runner who ran a foul of the law at one point in addition to running his schooner laden with whisky on the rocks. Actually it was not too difficult to find a photo of that schooner the Natalie J. Nelson wrecked off the coast of Newfoundland. The cargo was a total  loss.  Unfortunately or not It seemed as though no one took the Volstead Act Prohibition too seriously except the US Coast Guard and Elliot Ness. Here is another interesting bit of trivia, check out one of the more colorful origins of the phase "  The real McCoy" (bootlegger),

During my stay in Shelburne I spent part of two evenings discussing commercial inshore fishing (they still go out of sight of land) amongst other things with a couple who lived adjacent to where I had spent six of my childhood summers. It was here that I learned to row six years before I ever learned to swim. I had mentioned that I noticed that one of the fisherman in Lower Sandy Point had an absolute pristine Audi. The reply back was that he was an extremely successful, hard working, has a big boat (I would imagine well over a 40 foot Cape Islander) and really loves the car. His was a white A5 with anthracite after market wheels. It being a good two and a half hours drive to the only dealership in the entire province and that is in Halifax, talk about commitment to a brand. On the second visit, I left a couple of those swag black Audi rubber wristbands for the fellows kids. Just for chuckles check out the prices in Canadian for their Audis and the difference in naming of the trim levels.  Someone can correct me if I am wrong but do not forget to add the 15% provincial sales tax. ouch.  

One last thought, like most of the rest of us I have not found it possible to row through many gears lately, not a lot of stick shift Audis around any more, So, for the first time in 60 years I figured I would try the next best thing and do it with a real set oars. Unfortunately I got caught in the act in the middle of Lunenburg harbor rowing an 18 foot dory.. The masts of the Bluenose II are off to starboard and the Fisheries Museum of the Atlantic where I did some research is in the red building off to port.  


Hope all have a safe Fourth of July and we pause for a moment to remember and reflect upon what a wonderful country we are blessed to live and work in.

Cheers and Safe Motoring

Bob Greving 
President, ACFL 
bob@audiclubfl.org